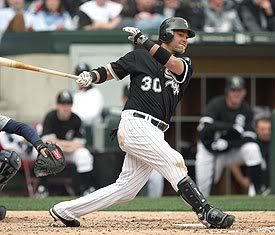 OAKLAND, CALIFORNIA (TICKER) — One day after flexing their offensive muscles, the Oakland Athletics secured the long-term future of slugger Nick Swisher.

The Athletics on Friday agreed to terms with Swisher on a five-year contract extension through the 2011 season with a club option for 2012.

Financial terms were not disclosed.

The news came less than 24 hours after Oakland pounded a season-high six home runs in Thursday's 17-3 rout of the Kansas City Royals. The A's also established season highs for runs and hits (18) in the contest.

Ironically, the switch-hitting Swisher did not join in on the fun, going 0-for-2 with a walk before being replaced by Todd Walker in the fifth inning.

Despite his quiet outing against Kansas City, the 26-year-old Swisher is one of Oakland's top power hitters. The outfielder is batting .286 with a team-leading six homers and 17 RBI this season, posting a .426 on-base percentage in 27 games.

A first-round draft pick in 2002, Swisher enjoyed a breakthrough campaign in 2006, batting .254 with career bests of 35 homers and 95 RBI. He is a career .249 hitter with 64 homers in three-plus seasons with the A's. – yahoo.com
This is a wonderful move by the Billy Beane and the A's. Nick Swisher was once considered the poster child of "Moneyball", and will not have to live in the shadows of that book.
Swisher has real Big-League power, great plate discipline, and is a great leader on the field and in the clubhouse. Locking Swisher up for the next 5-6 years is indication that the team is serious about winning. They are building a new stadium in Fremont and they need a contender when they get in.
The A's still have a few other things they need to do. Eric Chavez has been the poster boy for the A's and has been a fixture in the lineup for years. He may not be around to see the new stadium. The A's have these players locked up: Eric Chavez (2010, club option 2011), Bobby Crosby (2009), Alan Embree (2008, club option 2009), Rich Harden (2008, club option 2009), Dan Haren (2009, club option 2010), Mark Kotsay (2008), Esteban Loaiza (2008, club option 2009).
The A's have a group of yongsters here, just arriving, and on the way: outfielders Travis Buck, Danny Putnam, Javier Herrera, and Jermaine Mitchell. Pitchers Joe Blanton, Chad Gaudin, Jason Windsor, and Dan Meyer. 1B/DH Daric Barton. Plus young catchers Kurt Suzuki and London Powell.
Billy Beane and the A's have use a formula that has set this team up to win both now and in the future and Nick Swisher is a key part of the equation.
Related Stories:
Recent Stories:
Comments
Comments are Closed