For their once a year tour stop, The Hana Bank Kolon Championship. It will be played October 31-November 2nd at The Sky 72 Golf Club, Ocean Course in Incheon. The tournament dates back to 2001, when the inaugeral event was canceled after 9-11 occured.
This is a limited field event, with just 69 players. 12 of whom are KLPGA players, including this year's British Open champ and Rolex#8 player in the world, Ji-Yai Shin. While Lorena Ochoa, Annika Sorenstam, and Yani Tseng aren't playing, the field is still pretty strong. Defending champ Suzann Pettersen, Paula Creamer, and likely 2008 Comeback Player of the Year Helen Alfredsson are in the field.
Suzann Pettersen won last year's event by one shot over Eun-Hi-Ji. The tournament was called after 36 holes due to bad weather.
Last year's event was notable for a few things.
1- Pettersen was the first non-Korean winner of the tournament. Past winners include LPGA major champs Se Ri Pak and Grace Park, plus first time winners Shi Hyun 'Cinderella' Ahn, Jee Young 'Jelly' Lee, and Jin Jong Hong. Ahn, Lee, and Hong were all non-LPGA players at the time, and their wins earned them LPGA Tour cards. Could a KLPGA player do the same in 2008? Here's one name to look out for, Sun Ju Ahn.
2- After the Sunday final round was canceled, some golf fans got upset. In a season ending post on the good, bad, and just bizarre for 2007 on the LPGA tour, I gave these protesters my 'Pitchforks and Torches' award. Who says LPGA golf fans aren't enthusiastic.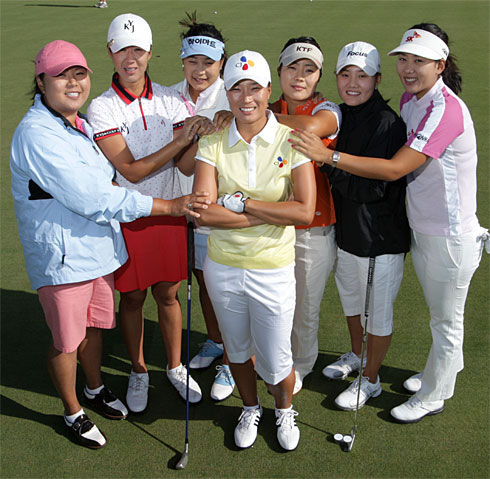 A picture of Se Ri Pak(center) and company. Many of the golfers behind Se Ri publicly state that they took up the sport after seeing the Hall of Famer excel at the LPGA Tour starting in 1998.
It has been an excellent year for the South Korean ladies after the off 2007 where only four of them won on tour, and none took home a major Championship. After a ten month victory drought, Seon Hwa Lee, Eun Hi Ji, In-Bee Park, Ji Young Oh, Ji Yai Shin, and In-Kyung Kim all took home titles. Lee actually winning two times. Seven tournament wins, including two major championships. Shin at the British Open, and In-bee Park at the US Open. Three players from South Korea rank in the top 10 money winners, eight in the top 20*.
This tournament is important for players wanting to make the tour ending ADT Championship. The ADT has a one million dollar purse for the golfer who wins it. At present, Eight South Korean players have qualified for the field. At least Another five would qualify if the current points standing holds.
As of yet, no Carolyn Bivens sighting this week . Would she show her face in South Korea after the 'English language policy' debacle of two months ago?
There is no North America television coverage of the tournament. The LPGA is off the air for 3 weeks as the tour travels through Asia.(China last week, Japan next week)
LPGA bloggers Hound Dog and The Constructivist have their own previews up.
*- 2007 LPGA Rookie of the Year Angela Park was born in Brazil, but has lived in the United States since age 8. She recently became a naturalized US citizen and has two brothers at present serving in the American armed forces. Some members of the media can't keep it straight that Angela isn't from South Korea. She's never lived in the country. Park is currently #3 in points in order to qualify for the ADT Championship.
Related Stories:
Recent Stories:
Comments
Comments are Closed