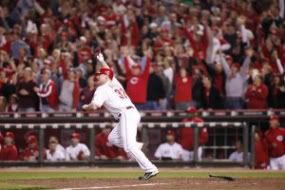 Don't you love prospects? Who doesn't? Anyone from Brien Taylor to Alex Rodriguez have been top prospects. Some players have what it takes to dominate the minors and the majors while others end up as AAAA players or out of professional baseball all together. Below is a list of prospects you may or may not have heard of. These are all players that have done one of the above I mentioned: dominate the minors. All they have left to do is prove thier worth in the bigs.
I am not profiling guys that have any big league experience. No Alex Gordon, no Billy Butler, no Delmon Young, no Matt Garza, no Phil Huges… you get the point.
If you are in fantasy keeper leagues that allow you to have a certain number of minor leaguers stashed away I suggest you look closely at the list provided. Some of the players are you going to start tearing up the bigs this season, some will have to wait until 2009.
Without any more rambling I present you with a few prospects you need to keep your eye on.
3B Evan Longoria – Longoria is just 21 and only a year out of college. He has gone a combined .317/.393/.595 in 388 at-bats in his pro career. What is most astounding are his power numbers. Over those 388 at-bats he already has 28 homers, 22 doubles, 1 triple, 92 RBI, 73 runs scored, and a BB/SO ratio of 44/71 (including 25/27 this season). He is a plus defender at 3B with a good arm. He doesn't have much speed but runs the bases well. He crushes lefties but he hits righties very well too. Longoria projects as a .300-30-110-5-100 middle of the order bat for the Rays. ETA: Sep 2007
SS Reid Brignac – In 128 games in 2006 he hit .321/.376/.539 with 100 runs 32 doubles, 5 triples, 24 homers, 99 RBI, and 15 stolen bases. His only knock is he is an "ok" defender and struck out 113 times. He has improved significantly on his defense and scouts say he can play SS in the majors. He got off to a good start, hitting .298 with 4 homers in his first 114 at-bats. He's slowed down sicne, going 7 for his last 40 with no homers in his first full season in AA but don't be fooled, he is one of the youngest players in that league. Brignac projects as a .290-25-90-10-90 guy at SS. If you are in a deep keeper league and have minor league rosters I would stash him away if he isn't already taken. ETA: Sep 2007 at the earliest and could be the big league SS for TB starting 2008
OF Jay Bruce – Bruce, 20, is one of my favorite prospects. He is a true RF, with plus-plus power and a strong arm. He needs to imporve on hitting lefties so he doesn't become a platoon plyer but he is too good to allow this to happen. So far this year for the Reds HiA Florida State League (pithcer friendly league) team he has hit .340/.389/.642 with impressive power numbers: 9 homers 12 doubles and 5 triples in only 162 at-bats, driving in 30 and scoring 31 in 40 games. He hit .291/.355/.516 last year with 16 homers 42 doubles 5 triples 81 RBI 69 runs and 19 steals in 444 at-bats. But don't let the steals fool you, he only has 2 so far this year and isn't exactly a burner. Bruce projects as a .310-35-110-8 guy in the bigs. That's no joke! Store him now if you can. ETA: 2009
OF Cameron Maybin – Maybin, 20, is off to a hot start: .317/.434/.486 in 142 at-bats with 4 homers, 6 doubles, and 3 triples. He's also scored 31 and drove in 20 in 39 games with 13 steals and a 29/47 BB/SO ratio. He needs to cut the strikeouts down a bit but that is an impressive walk rate for a young hitter in a pitcher's league (HiA FSL). Maybin is the Tigers CF of the future and is an impact bat with plus range and a good arm for center. Last year he hit .304/.387/.457 with 9 homers 20 2B and 6 3B in 385 at-bats, not to mention he drove in 69 and scored 59 and stole 27 bases. He is very young and still a little raw. The Tigers expect him to fill his frame out and when he does they expect some of those doubles to turn into homers. He could be a yearly .300-18-85-30-95 guy in the bigs. ETA: 2009
OF Justin Upton – Upton, who doesn't turn 20 until late August, is the younger brother of B.J Upton. Upton was the first overall pick by the Diamondbacks two years ago out of high school. He did "ok" last year hitting .263/.343/.413 with 12 homers and 15 steals in 438 at-bats. This year he is tearing up anything that comes his way. He is now in AA at the ripe age of 19 and is hitting a combined .347/.439/.611 between HiA and AA. He also has 9 homers 7 doubles and 2 triples to go with 10 steals a BB/K ratio of 22/33 and 34 runs and 28 RBI in 144 at-bats. The D-Back believe he can be a #3 hitter and see him as a .310-25-100-25-100 player. ETA: SEP 2008
OF Travis Snider – Snider, 19, is tearing up Midwest league pitching to the tune of .366/.394/.557 with 2 homers 11 doubles and 4 triples in 131 at-bats. He has driven in 27 and scored 16 with 3 steals. His BB/SO ratio (8/27 in 33 games) needs to improve and will with more experience. Snider impressed in the Appy league last year going .325/.412/.567 with 11 homers 12 doubles and a triple in 194 at-bats with a 30/47 BB/K ratio. He also stole 6 and had 36 runs and 41 RBI. Snider is projected as a RF, with plus power potential and a good arm that will be fine in RF. The Blue Jays won't rush him. He projects as a .300/25/100 bat. ETA: SEP 2009
SP Jake McGee – McGee, 20, is 3-1 in 8 starts in HiA ball with a 1.51 ERA in 41.2 innings pitched. He's also struck out 45 and walked 17. Here is what is key though, only 27 hits allowed for a .182 average and no home runs allowed. Last year he posted a 2.96 with 171 SO in 134 IP and only 7 homers allowed with a .211 avg. McGee is a power pitcher and is a front of the rotation type starter. ETA: Sep 2008 at the earliest
SP Wade Davis – Davis, 21, is 2-0 in 8 starts in HiA ball with a 1.70 ERA in 47.2 IP, including a no-hitter. He has struck out 45 against 14 walks. Like McGee, he doesn't allow many hits, only 31 for a .191 avg and only one homer against him. Last year he posted a 3.02 ERA and struck out 165 in 146 IP while allowing only 5 homers. Anothr power arm like McGee and also projects as a 1-3 starter. ETA: Sep 2008 at the earliest
SP Adam Miller – Miller, 22, is waiting for a spot in the Indians rotation to open up. He is currently 4-1 with a 2.45 in 44 AAA innings. He a has struck out 39 and walked 14 and only given up 2 homers. His numbers last year were 15-6 with a 2.84 and 161 K to 46 BB in 156.1 IP. He could be at the top of the Indians rotation for many years. ETA: Sep 2007
SP Homer Bailey – Bailey is possibly the best pitching prospect in all of pro ball, possibly better than Phil Highes. Bailey is 21 and doing quite well in AAA with a 3-1 record and a 2.27 ERA in 39.2 IP. His walks are up and strike outs are down (27/19 SO/BB) and that is the only reason he's not in the Reds rotation right now. Even with the high walk rate he has only allowed 2 homers and a .194 avg against. His numbers last year were 10-6 with a 2.47 in 138.2 IP and 156 SO and a .198 avg against. ETA: no later than Sep 2007
SP Kevin Slowey – Slowey, 23, is a pitcher with great command and control. Some scouts still like to question his "stuff" but his numbers tell the story. So far this year he is 4-2 with a 1.46 in 49.1 AAA innings. What is most impressive is his 44/3 SO/BB ratio. That's right, only 3 walks! He has a .176 avg against and only 2 homers against. Last year he posted an 8-5 record with a 1.88 ERA and 151/22 SO/BB ration in 148.2 IP with a .188 avg against. He should join the Twins rotation very soon. ETA: mid June 2007.
-stats are from games through 5/18/07
Related Stories:
Recent Stories:
Comments
Comments are Closed